Starting a blog can be as easy a signing up for an Instagram account. Take a few photos on your smartphone, write a witty caption or two, rant against a hotly-debated issue. Presto, you've joined the ranks of millions of other aspiring bloggers.
Creating a successful food blog that spawns few other businesses and an award-winning personality? A little bit trickier.
Meet Firas Kazma, a Lebanese-American businessman and food blogger, who parlayed his passion for food into a small empire.
First created in 2019 as his project, CEO Street Food is Kazma's Middle Eastern food blog and the cornerstone of his success. On the brightly designed site, the millennial strikes a conversational tone in posts that feature classic dishes like Mousakka or re-imagine Middle Eastern flavors like pomegranate into newer, 21st century creations.
Also Read: 5 Dubai food blogs you need to follow now
Recognizing that few foodies might not have access to their uncle's 'kibbeh' or the patience to cook in the kitchen for hours, Firas offers shortcuts when possible but also lets readers know that yes, it is really important to make a perfect texture in 'manakish'.
He also tries to cook his own sandwiches and other recipes while he's at home and also sometime tries to replicate the dishes after trying something new.
Moreover, his audience reaches out to Firas to know about the good restaurants in the UAE, or even the best places for trying burgers, pizzas, etc.
"When it comes to food, I can drive from one city to another or even fly from one country to another to see what's trending and how can I find the hidden gems. For trying something new, I won't mind driving for 3-4 hours for something that's worth more than that. My love for food is everlasting and there's a lot more to come on my blog 'CEO Street Food'." – says Firas Kazma.
Also Read: Experience Delicious Food from the Renowned Dubai based Chef Musabbeh Alkaabi
A quick glance at the well-researched recipes, stunning photos and his active Instagram blog drives the point home: Firas has been serious about growing his blog.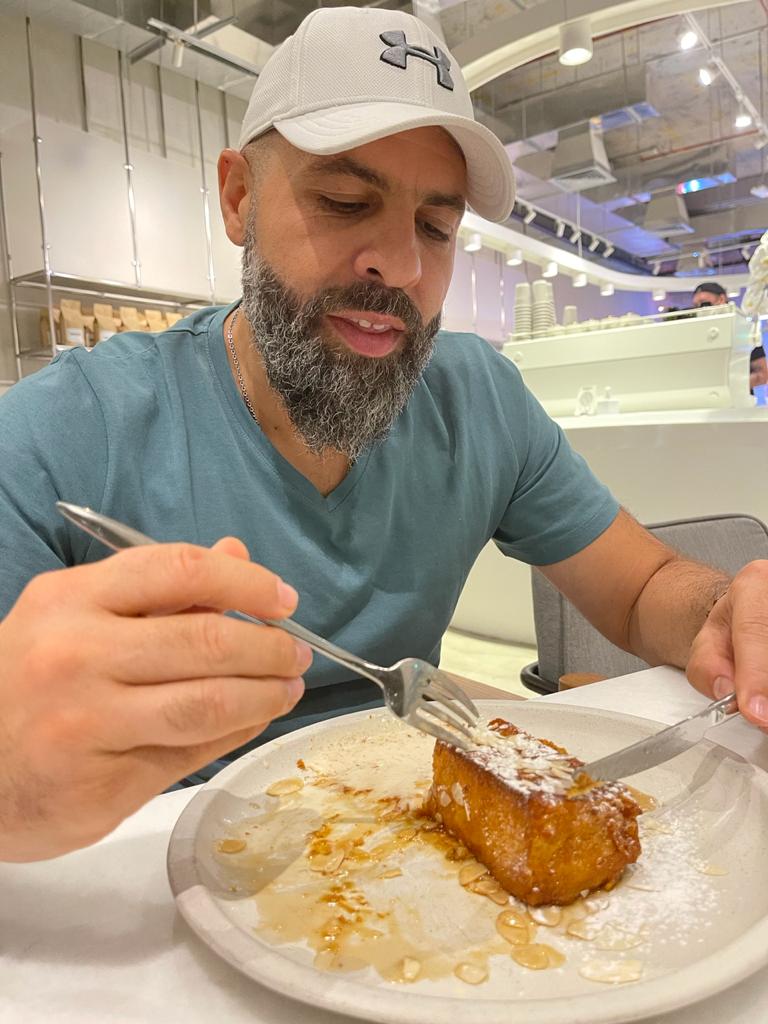 Moreover, he has garnered hundreds of thousands of follower-base on TikTok which is now seeing a huge growth, unlike Instagram.
"[On Instagram] I try to act like how I am in real life, it's important to be genuine," says Firas. "Sometimes, it can come off a little dorky, but you definitely need to engage with your followers."
Recently, Firas Kazma has announced the big news for the tools his blog will feature later this month. As of now, they have been named as 'Foodo' and 'Restro'. Foodo enables all food enthusiasts to look out for trending dish in the UAE, whereas Restro enables all restaurants to list their address on CEO Street Food so that everyone in the UAE can check the most trending restaurants.
This one-of-a-kind tool will definitely take up the F&B industry to another level especially the way this big blogger is ideating the growth of his new projects.
Sharing details of his businesses and new favourite restaurants, the blogger tries to strike a balance between the personal and informative, knowing that readers come to the 'CEO Street Food' for watching his reviews on delicious recipes rather than the sordid details of his personal life. In the blogosphere where it is normal for bloggers to share everything from their new house story to intimate photographs of their lifestyle, this professionalism in food blogging has helped set Firas apart.
"I won't post a review just to have something up," explains Firas. "From the beginning, I focused on quality over quantity, and I think that very much important for me at first."
"When I look back on my life, it is so obvious now that I would end up in the traditional culinary world. At the time, I had no idea," says Firas, when reflecting on his foray into food blogging and his upcoming projects.
Check out his latest reviews now on CEO Street Food blog on Instagram https://www.instagram.com/firaskazma/